By Pat Halpin-Murphy
President and Founder of the PA Breast Cancer Coalition
More than two decades ago, many states including Pennsylvania did not have free screening mammograms. We did not have insurance coverage for breast cancer reconstructive surgery. We did not have insurance coverage of life-saving breast cancer screenings like MRI and ultrasound for women with very dense breasts and high-risk factors.
We do now, because of the power of researchers and advocates joining together for change.
Each October, Breast Cancer Awareness Month provides an opportunity to turn advocacy efforts into action, highlighting the importance of annual screenings, early detection and the critical need for research funding across the country. In the U.S., one in eight women will be diagnosed with breast cancer in her lifetime and, in Pennsylvania, over 13,000 women will be diagnosed this year with the disease. If breast cancer is detected at its earliest stage for those women, the five-year survival rate is more than 95 percent. Nearly all breast cancers can be treated successfully if found early.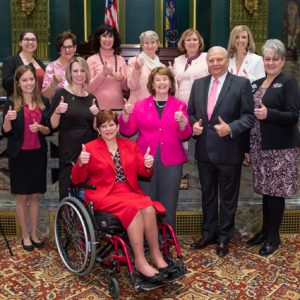 Pennsylvania's Act 52
This year, the findings of an ECOG-ACRIN clinical trial comparing abbreviated MRI and 3D mammography (tomosynthesis) found that breast MRI was 2.5 times more effective at detecting invasive breast cancers than 3D mammograms in women with very dense breasts. The results, published in the Journal of the American Medical Association (February 2020), will no doubt change practice nationwide.
As a result of this clinical trial, the Pennsylvania (PA) Breast Cancer Coalition and its network of advocates were able to champion legislation, (PA Senate Bill 595 – Act 52 / 2020) that now requires insurers to cover breast MRIs and ultrasounds for women with very dense breasts and women with high-risk conditions such as a personal history of breast cancer, family history or genetic predisposition. The PA Breast Cancer Coalition will recognize a lead author in the abbreviated MRI trial, Dr. Mitchell Schnall, with the PBCC's 2020 Potamkin Prize. He will then report the landmark study results at the Opening Session of the PA Breast Cancer Coalition Virtual Conference.
Research results like the abbreviated MRI clinical trial arm advocacy groups like the PA Breast Cancer Coalition with the information they need to achieve legislative changes that are necessary for the best possible treatment for women with breast cancer. The PBCC is honored to partner with NRG Oncology and the National Surgical Breast and Bowel Project (NSABP Foundation) on clinical trial outreach initiatives and is proud to have awarded more than $4.3 million in research grants to scientists working to find the cause of and cure for breast cancer.
This Breast Cancer Awareness Month and every month going forward, we can prevent cancer deaths by communicating the critical importance of early detection for breast cancer. Together, we can fund groundbreaking clinical trials that lead to the best breast cancer screenings of today and treatments of tomorrow. Together we can and will find a cure for breast cancer now… so our daughters don't have to.