Making an Impact in the Fight Against Breast Cancer
1,536

Total amount of hours spent on Patient Advocacy

90¢

Of every dollar goes towards our programming

1,200

Total amount of free care packages sent in 2020

4.5m

Total amount donated to breast cancer research
Five Guys Community Night
Five Guys is giving back! Come out and support the PBCC at Five Guys Lebanon and/or Lancaster location(s). 20% of all orders will benefit breast cancer survivors in PA!
View Event
Toasting a Cure at the Vineyard
Toast to a cure with us on Saturday, June 11!
View Event
Be a driving force!
Pink Ribbon License Plates
Show your commitment to breast cancer awareness everywhere you go. A portion of your purchase goes to the PA Breast Cancer Coalition!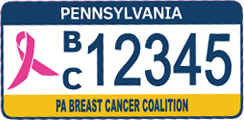 Thank you to our Corporate Sponsor:

Don't miss the latest Pennsylvania breast cancer news and events in our print newsletter, Frontline and our eNewsletter PinkLink!