Making an Impact in the Fight Against Breast Cancer
1,536

Total amount of hours spent on Patient Advocacy

90¢

Of every dollar goes towards our programming

1,200

Total amount of free care packages sent in 2020

4.5m

Total amount donated to breast cancer research
Highmark Walk for a Healthy Community
Join the PBCC as we walk towards a cure for breast cancer together!
View Event
Five Guys Community Night
Five Guys is giving back! Come out and support the PBCC at Five Guys Lebanon and/or Lancaster location(s). 20% of all orders will benefit breast cancer survivors in PA!
View Event
Be a driving force!
Pink Ribbon License Plates
Show your commitment to breast cancer awareness everywhere you go. A portion of your purchase goes to the PA Breast Cancer Coalition!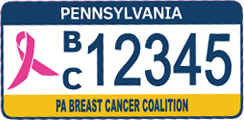 Thank you to our Corporate Sponsor:

Don't miss the latest Pennsylvania breast cancer news and events in our print newsletter, Frontline and our eNewsletter PinkLink!