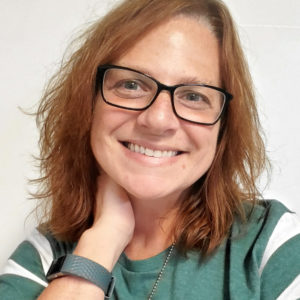 After finding out she had breast cancer on her very first mammogram, Sandi has been a strong advocate for herself and others. She speaks out about the importance of breast cancer awareness and doing what you can to be there for someone going through a diagnosis.
HOW AND WHEN WAS YOUR BREAST CANCER FOUND? WHAT WAS THE TREATMENT?
I was diagnosed on February 17, 2012 with stage 3c triple negative breast cancer at age 40 with my very first mammogram. Treatment was four rounds of adrymyacin every other week, 12 weekly taxol injections, and then 34 radiation treatments and seven boosts, specifically on a stray node in my neck. I had a lumpectomy and then they needed to go back in to take a bit more.
I spent a year in active treatment ending the day before Thanksgiving. Every year at Thanksgiving, I send my doctors cards letting them know how much I appreciate how they helped me get to another year. Since then, I have been as outspoken as I can be about breast cancer awareness, lymphedema, and neuropathy.
TELL US ABOUT HOW BREAST CANCER HAS CHANGED YOUR LIFE
I woke up one day and said I'm losing weight and cutting carbs out of my diet. Everything I eat now is something I made myself, a whole food low-fat diet. I do cooking classes in my home, making pizza crusts without flour or grains, things like that. I teach how to make healthy food on my website and Facebook page. I enjoy life more. I take more vacations. I changed my attitude, my lifestyle, and I lost 120 pounds. Now I teach others to make healthier choices.
WHAT SURPRISED YOU THE MOST ABOUT BREAST CANCER?
I wasn't prepared for how little I knew about breast cancer. I didn't know about the side effects, about lymphedema or that you could get neuropathy from the chemo.
HOW WOULD YOU COMPLETE THIS SENTENCE: "WITHOUT THE PBCC, _____
Without the PBCC, many more women would be struggling to get the support they need.
WHO SUPPORTED YOU? HOW?
Well, I had my husband and kids. They did a lot around the house. I found an online support group, breastcancer.org and found a group of other women going through the same treatment I was; there were about 50 of us. That was the best part because they really got what I was going through. Those women were my lifeline. I never wore a wig or a scarf so it was obvious I had cancer. Strangers would walk up to me and say they were praying for me and that was awesome.
HOW CAN A FRIEND OR FAMILY MEMBER HELP A WOMAN WHO IS NEWLY DIAGNOSED?
Just go to the store and pick up groceries. Make them dinner. They can always freeze it. Take their kids to practice. Think of all the stuff that needs to be done and just do it.
WHAT TO YOU HOPE OTHER WOMEN LEARN FROM YOU?
Reach out to other women who have gone through the same thing. Then reach out and help the next one along. Know that survivor guilt is real. In the support group of 50 women, five of us didn't make it. It affects others when someone passes. You think why them and why not me. The best we can do is to continue to help each other, try to do good things, and try to live a happy life.