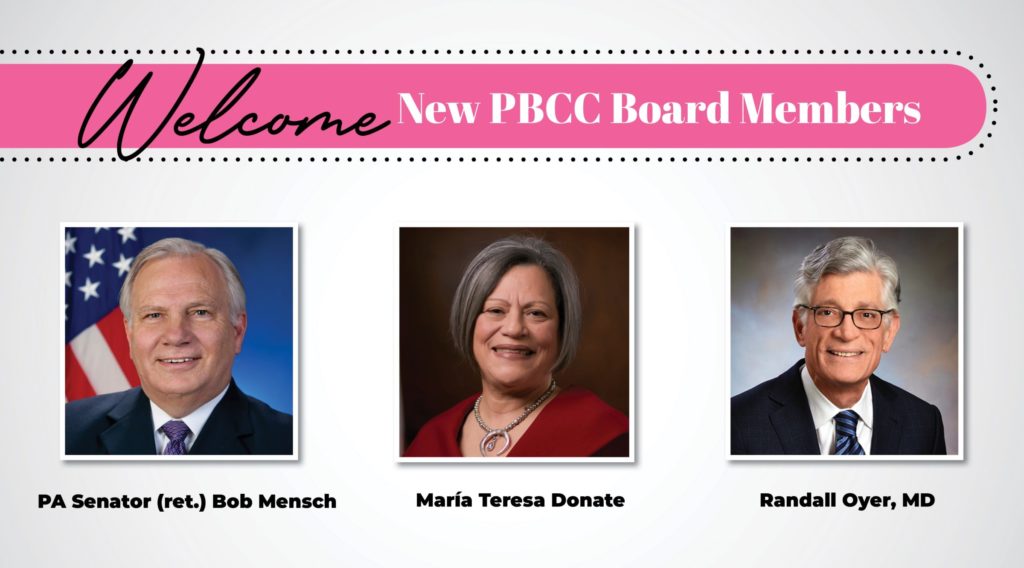 The PA Breast Cancer Coalition welcomes three new members to its Board of Directors who share in our mission and vision: Retired PA Senator Bob Mensch, María Teresa Donate and Dr. Randall Oyer.
Senator Bob Mensch, our legislative champion, will continue his advocacy for the PA Breast Cancer Coalition as a new board member. Senator Mensch recently retired after an 18-year legislative career with victories including the Breast Density Notification Act, Act 52 of 2020 for breast MRI and ultrasound coverage and the Breast Cancer Research Act. Thank you and welcome to the board, Senator Mensch!
María Teresa Donate is a breast cancer survivor and previously was a PBCC Northampton County Captain. She is Professor Emerita at Northampton Community College and served as president and founder of the Latino Leadership Alliance of the Lehigh Valley. Governor Tom Wolf appointed Teresa as Chair of the Governor's Advisory Commission on Latino Affairs (GACLA). Welcome, Teresa!
Randall Oyer, MD is a practicing medical oncologist and Medical Director of Oncology at the Ann B. Barshinger Cancer Institute at Penn Medicine Lancaster General in Lancaster. Dr. Oyer is an ex-officio Commissioner of the American College of Surgeons Commission on Cancer and is a member of the National Cancer Policy Forum at the National Academies of Science, Engineering, and Medicine. Welcome, Dr. Oyer!
We are grateful for your service and cannot wait to accomplish great things together in 2023!