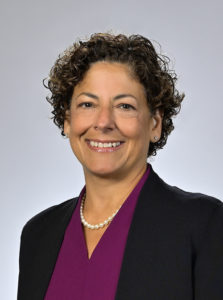 Will My Breast Cancer Come Back?
An Update from the 2-PREVENT Breast Cancer Translational Center for Excellence
Angela DeMichele, MD, MSCE
Co-Leader, Breast Cancer Research Program
Co-Director, 2-PREVENT Breast Cancer Translational Center for Excellence
Abramson Cancer Center, Penn Medicine
2022 PA Breast Cancer Coalition Potamkin Prize Winner
While many patients are cured of early breast cancer, there is still a group of patients who relapse at some point in their lifetime with incurable metastatic breast cancer. There is currently no tool available in practice to identify which patients will relapse after completing treatment, so "watchful waiting" is the standard. Thus, though many patients will ultimately be cured, without a way to proactively monitor for disease before relapse, every patient diagnosed carries the weight of anxiety and fear about recurrence. Our focus has been to determine how to prevent metastatic breast cancer by identifying patients with tumor cells that remain dormant over many years and find ways to prevent those cells from causing a recurrence.
Dormant cells (DTCs) are "sleeper cells" that are not dividing or utilizing any external energy sources. Laboratory studies have shown how these cells stay alive to ultimately reactivate and spread through a variety of different mechanisms. Preclinical studies in mice can kill these dormant cells and prevent breast cancer recurrence. However, to develop clinical strategies to identify and treat these dormant "sleeper" cells in breast cancer survivors to prevent recurrence, we need a way to find the patients who have them and to determine if our treatments work in real time – otherwise, it will take a lifetime to see results.
Currently, a DTC test is available to identify dormant cells in the bone marrow of breast cancer survivors. We know from large scale studies of tens of thousands of patients over the last 25 years that DTCs detected in bone marrow are a risk factor that increases the risk of relapse and death anywhere from 2 to 4-fold higher than that of patients without them. However, despite this knowledge, we do not use the DTC test in practice because we lack evidence and interventions on how to change the outcome of patients with a positive DTC test.
Within the 2-PREVENT Center, we have undertaken large scale studies to develop ways to detect DTCs, monitor breast cancer survivors for them, and treat them when we find them. The goal is to be able to monitor any patient who has been treated for breast cancer with this test, and to have treatments available that will get rid of these cells, preventing metastatic relapse and leading to cure. We have also begun testing the blood of the patients in these studies to see if there is evidence of tumor cells there. This test detects fragments of DNA from tumor cells that have reactivated. We now know that this is often detected just a few months before a recurrence.
These ongoing studies will enable us to develop the best strategies for screening breast cancer survivors for dormant "sleeper cells" with the DTC test as a surrogate biomarker and be able to see how adding the ctDNA test to the surveillance strategy can improve it. We will be able to fully understand whether drugs we are testing in our trials that target these cells have a sustained effect by both watching for relapse in patients at high risk of recurrence, and by determining whether an undetectable DTC test predicts long term benefit from these treatments. The success of this testing, treating and surveillance could provide every breast cancer survivor with the peace of mind to be proactive and the ability to cure remaining patients who relapse and die of this disease.