Kim's breast cancer diagnosis and determination to fight back against the disease has lead her to start her own nonprofit, Ta Ta Rebels, an organization that helps provide financial assistance for out-of-pocket expenses. She believes in staying positive and has a slogan "don't give up; always believe."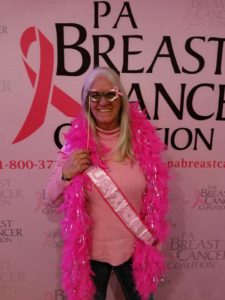 WHEN WERE YOU DIAGNOSED AND WHAT WAS YOUR TREATMENT?
I was 51 years old and noticed a change in my breast, a dimpled line across the top of it. I watched it for about a month and then decided I had better get it checked out. The diagnosis was invasive ductal carcinoma stage 1. I had a partial mastectomy, then seven weeks of radiation, and three days of blasts of radiation. I chose not to have reconstruction. Later as a breast cancer survivor I was diagnosed with lymphedema in my right arm and shoulder.
I have always had a swimming pool in my backyard but since the radiation, I can't be outside in the heat. The life I had before cancer is changed, that can be terrifying. But I always believed I would get to the other side of it. Staying positive is huge in healing, so my slogan is don't give up; always believe.
WHAT DO YOU WANT NEWLY DIAGNOSED WOMEN TO KNOW?
First of all, that breast cancer is NOT a death sentence, and that treatment has come a long way to ensure survivorship. It will be a roller coaster ride of emotions and changes. It's OK to be scared, angry, and worried but staying positive is the best way to combat that. Always try to find the positive in every situation.
HOW DID THE TA TA REBELS COME ABOUT?
As a survivor, I learned that the first eligibility requirement for any other resource out there is that the woman is still in active treatment for breast cancer. In January 2018 I established this nonprofit to meet the needs of survivors who are past treatment. We provide financial assistance for out-of-pocket expenses such as co-pays and deductibles. We also help with mastectomy bras*, prosthesis, and lymphedema compression sleeves up to $250 per person a year. I chose the name Ta Ta Rebels to represent how we are fighting back.
Good Day PA featured the Ta Ta Rebels, which gave us the opportunity to discuss the Scar Tissue Release Therapy program and to let the viewers know more about our organization.