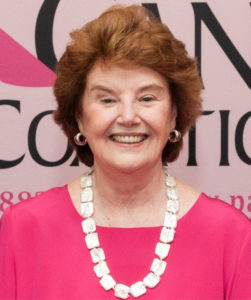 Pat Halpin-Murphy
President & Founder
In 1993, Pat Halpin-Murphy, a stage III breast cancer survivor, sought to create an organization that supported and advocated for Pennsylvania women facing breast cancer. Fast forward 30 years later, the PA Breast Cancer Coalition provides programs and services for individuals in all of the state's 67 counties. The PBCC has awarded over $5 million in research grants to outstanding Pennsylvania breast cancer researchers working to find a cure.
Halpin-Murphy, a Philadelphia native, earned master's degrees in economics and political science from Drexel University and the University of Pennsylvania. She also studied at Harvard University's John F. Kennedy School of Government. Pat had a notable career in state and national government, serving as an advisor to Governor Robert P. Casey, U.S. Senator Harris Wofford and U.S. Secretary of Labor Robert Reich.
Halpin-Murphy is a Gubernatorial Appointee to the Pennsylvania Cancer Advisory Board, assisting with the development of Pennsylvania's cancer plan and the PA Department of Health on breast cancer-related issues. In addition, Pat acts as an Advocate Member, representing breast cancer survivors, on the Board of Directors for the NSABP (National Surgical Adjuvant Breast and Bowel Project) and serves on the Patient Advocacy Committee of the Coalition of National Cancer Cooperative Groups, Inc.
In 2014, Pat was recognized with a White House Champion of Change Award for her unparalleled work advocating for women's health care and insurance coverage and was honored by Governor Corbett and First Lady Susan Corbett as the first recipient of the prestigious Hannah Penn Award for Civic and Volunteer Leadership. Pat was also recently recognized by the governor as a Distinguished Daughter of Pennsylvania. She has been selected by the National Governors Association to receive its Distinguished Service to State Government Award and honored by the Pennsylvania Commission for Women with the Women Change America Award.
As the Pennsylvania Breast Cancer Coalition's Founder and President, as well as a breast cancer survivor, Pat is committed to finding a cure for breast cancer now… so our daughters don't have to.