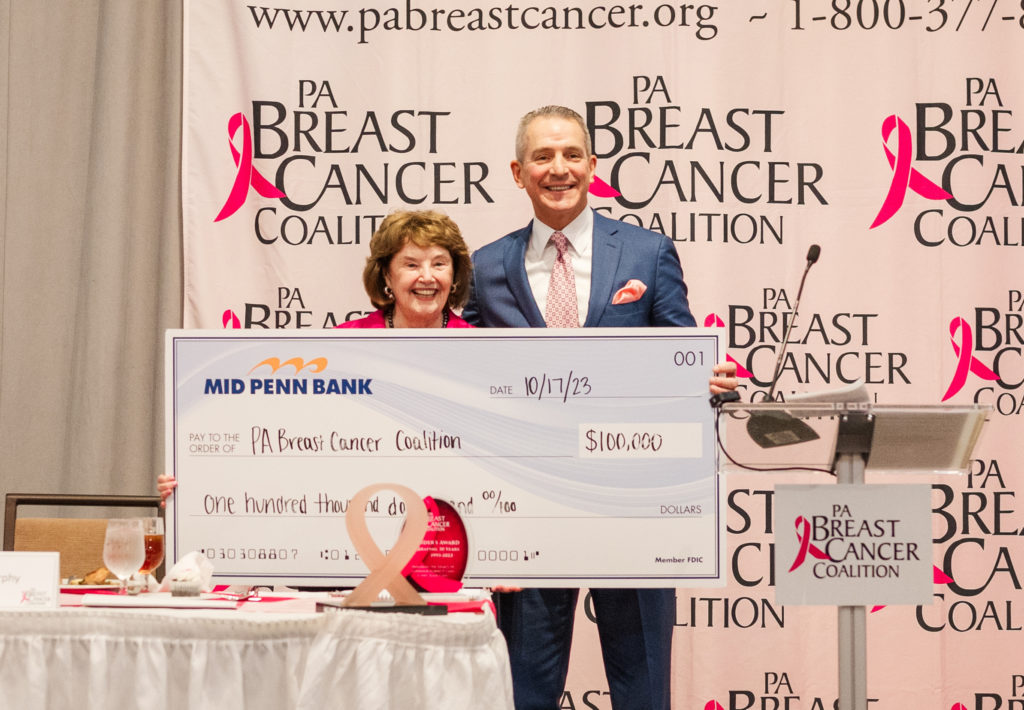 The 2023 Mid Penn Bank Celebrity Golf Classic raised an incredible $100,000 for the PA Breast Cancer Coalition!
Mid Penn Bank President and CEO Rory Ritrievi presented the contribution to PBCC President and Founder Pat Halpin-Murphy in a surprise announcement at the 30th Anniversary Conference in Harrisburg Tuesday, October 17. The golf classic, which takes place each year in July, attracts professional athletes from across the country for several days of golf and service projects for breast cancer patients. To date, Mid Penn Bank has contributed $685,000 toward the PA Breast Cancer Coalition's programs, services and research grants initiative.
The tournament kicked off with Project Pink, during which volunteers filled 250 Friends Like Me care packages to be sent to newly diagnosed women in Pennsylvania. Each package was then customized with educational resources, small gifts, head wraps, cosmetics, books and a personal message. Mid Penn Bank volunteers spent time crafting handwritten cards to include in the packages.
Last year alone, our Grassroots Partners helped to send more than 1,400 free care packages to Pennsylvania women diagnosed with breast cancer.
Mid Penn Bank also makes it possible for the PBCC to award research grants to outstanding scientists in Pennsylvania working to find the cause of and cure for breast cancer.
The Coalition has awarded over $5 million to outstanding Pennsylvania researchers working to find a cure for breast cancer who desperately need funding to move their innovative ideas forward.
Thank you to the event organizers, golfers, sponsors and volunteers who continue to make the Mid Penn Bank Celebrity Golf Classic a success each year. Because of you, we are closer to our united goal of finding a cure for breast cancer now… so our daughters don't have to.