Join the PBCC this Saturday, September 18, at ARTifice Ales & Mead for the Hope is Brewing event for your chance to bid on some beautiful artwork by JJ Roach Art! Artist, Joseph Roach, painted three extraordinary pieces, in honor of breast cancer survivors, to be auctioned off as we brew up hope and kick off Lancaster Beer Week. Hope is Brewing will include a silent auction, live music, drink specials, delicious food and axe throwing. Proceeds will benefit the PA Breast Cancer Coalition. Thank you to event sponsors, auction contributors and ARTifice Ales & Mead for hosting the 1st Annual Hope is Brewing!
WHEN DID YOU REALIZE ART WAS A PASSION OF YOURS?
In middle school art class, I used to stand at a table and scribble. I have ADHD and I'm on the spectrum. I need to feel appreciated and have a positive relationship with the teachers I work with. Mrs. Hibsham continued to encourage me. I started to respond to her continued encouragement and all my thoughts and energy began pouring out on canvas. My parents started framing what I brought home and all the encouragement kept me moving forward.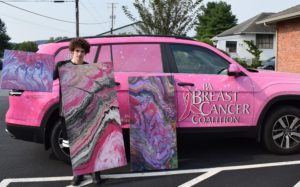 THANK YOU FOR DONATING THREE BEAUTIFUL PIECES FOR THE GRASSROOTS PARTNER EVENT, HOPE IS BREWING, AT ARTIFICE ALES & ME
AD IN M
ANHEIM! TELL US ABOUT YOUR PAINTING TECHNIQUE.
I go between very tedious detailed pictures that can take months to finish, to a style that requires mixing paints and deciding where and how I put it on canvas. I enjoy the eye popping colors and designs that just roll from my brain.
THE PAINTINGS YOU CREATED FOR THE PBCC ARE IN MEMORY OF YOUR AUNT JOYCE. CAN YOU SHARE A LITTLE BIT ABOUT HER AND WHY YOU FEEL SO STRONGLY ABOUT HELPING OTHER FAMILIES AFFECTED BY BREAST CANCER?
I love my Aunt Joyce, she fought hard to live for her family and children. In the end breast cancer took her. I don't want any other family to go through that. If I can help in this small way, I feel good about sharing my art to help others live!
Don't miss your chance to see and bid on Joseph's incredible art at Hope is Brewing this Saturday!