Since 2016, Toasting a Cure at the Vineyard has raised over $158,000 for the PA Breast Cancer Coalition through the annual event at Bucks Valley Winery & Vineyards. Thanks to the efforts of the coordinators, Helen Michener and Laraine Forry, ALL event sponsorships go directly to women and families battling breast cancer in Pennsylvania. The Willows at Ashcombe Mansion are a GOLD sponsor for the 9th Annual Toasting a Cure!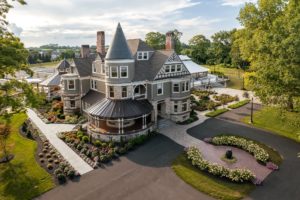 TELL US ABOUT YOUR INVOLVEMENT WITH TOASTING A CURE AT THE VINEYARD
As a new business, we were thrilled to be approached by the Toasting a Cure coordinators. Our Team at The Willows is honored to support such a worthy cause! We know it is very important to build lasting relationships with our neighbors, continue to share our passion for giving with our community and remain involved with Toasting a Cure for years to come.
WHY IS IT IMPORTANT TO RAISE MONEY FOR BREAST CANCER
The funds we collectively raise allows the PBCC to send free care packages to newly diagnosed women, fund life-saving breast cancer research and provide free patient advocacy services to those in need. We know raising this money validates women's experiences, equips them with the tools to face such a staggering diagnosis and it helps create a world where breast cancer will be no more! #GOALS
WHAT DOES OUR MISSION OF FINDING A CURE NOW, SO OUR DAUGHTERS DON'T HAVE TO MEAN TO YOU
We love that the PBCC takes such an offensive position in the fight for finding a cure. Cancer is an aggressive disease. We must be tougher, stronger, and fight harder so our children don't have to. Rather than wait for our loved ones to suffer, PBCC is actively saying "No, the buck stops here!"
This year, Toasting a Cure at the Vineyard will take place on Saturday, June 10th. Event will feature wine tastings, refreshments, live music, a live and silent auction and more! Get your tickets today!
Thank you to The Willows at Ashcombe Mansion for making the 9th Annual Toasting a Cure at the Vineyard possible!