ABC27 helps the PBCC Toast a Cure at Bucks Valley Winery & Vineyards
Since 2016, Toasting a Cure at the Vineyard has raised over $158,000 for the PA Breast Cancer Coalition through the annual event at Bucks Valley Winery & Vineyards. Thanks to the efforts of the coordinators, Helen Michener and Laraine Forry, ALL event sponsorships go directly to women and families battling breast cancer in Pennsylvania. abc27 News is a Media sponsor for the 9th Annual Toasting a Cure!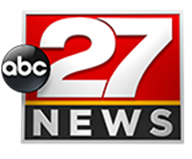 TELL US ABOUT YOUR INVOLVEMENT WITH TOASTING A CURE AT THE VINEYARD
abc27 has been proud to help support Toasting a Cure at the Vineyard for many years! We are happy to do our part to get the word out about this fantastic event through on-air promos and in our newscasts. Alicia Richards and Valerie Pritchett have joined in the fun over the years by attending the event as emcees.
WHY IS IT IMPORTANT TO RAISE MONEY FOR BREAST CANCER
I think it's safe to say we all know someone whose life has been touched by an unexpected cancer diagnosis. It is a terrible disease that impacts so many lives and it is so vital that we continue to fund programs that advance research and create support and resources for those battling a breast cancer diagnosis.
WHAT DOES OUR MISSION OF FINDING A CURE NOW, SO OUR DAUGHTERS DON'T HAVE TO MEAN TO YOU
It means everything! If we can find a cure we can all live happier and healthier lives with the people we care about.
This year, Toasting a Cure at the Vineyard will take place on Saturday, June 10th. Event will feature wine tastings, refreshments, live music, a live and silent auction and more! Get your tickets today!