This year the Ride 4 Life horse show will celebrate its 10th anniversary of raising funds and awareness for breast cancer. Since 2011, Ride 4 Life has contributed over $22,000 to the PBCC, thanks to the hard work and effort of its coordinators and supporters!
"As a breast cancer survivor and an avid equestrian, I wanted to find a way to return the kindness and generosity shown to me in my time of need when I was diagnosed in 2004. I wanted to donate to a local, hard-working group and chose the PBCC." – Shelly Mix, Ride 4 Life Coordinator
TELL US ABOUT YOUR EVENT!
Ride 4 Life is a fast-paced horse show based on the concept of 'fastest time wins'! We have classes for beginner riders, children and skilled adults. Ride 4 Life is a fun-filled day where riders compete for prizes, money and contribute to the yearly gift for PBCC. We get hundreds of contestants and spectators as well as vendors in an entertaining and exciting atmosphere, all in PINK! Even the horses!
HOW DOES IT FEEL TO BE CELEBRATING THE 10TH ANNIVERSARY OF RIDE 4 LIFE?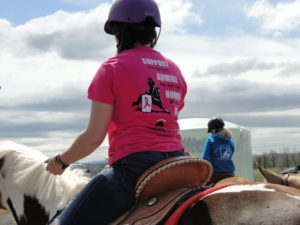 It's been a labor of love. At first it was difficult with so many details to attend to, but every year it's gotten easier. Sponsors, vendors and contestants view it as a "must-attend event" each year – their favorite! It makes my heart sing!
Starting that very first year, we teamed up with my neighbors, the Hostetters, who own Shale Knoll Arena (aka: Redeye Rodeo Company). They've provided a great facility and a terrific team ever since, helping make Ride 4 Life possible year after year.
WHY DO YOU THINK IT'S IMPORTANT TO RAISE MONEY FOR BREAST CANCER?
In January 2021, I had a second breast cancer diagnosis, followed by surgery. Having this unique prospective 16 years apart, I can clearly see that the technology has improved by leaps and bounds! All through funding to keep that research going.
WHAT DOES OUR MISSION, FINDING A CURE NOW…SO OUR DAUGHTERS DON'T HAVE TO, MEAN TO YOU?
EVERYTHING! I now know that the PBCC is THE source of action and information for women in Pennsylvania with breast cancer. Through your outreach and education programs, legislative victories and vast patient resources, you are "one stop shopping" for both the newly-diagnosed and the long-term survivor.
Join us in celebrating 10 years of horse show fun and excellence at the Ride 4 Life event on April 24, 2021! Click here to view details.