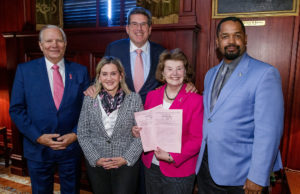 TWO breast cancer bills got the green light in the Senate Banking and Insurance Committee this week and now await a full Senate vote. The bills will still have to pass the PA House.
SB 1225 introduced by Pennsylvania State Senator Bob Mensch:

No-cost breast MRI, ultrasound for women at high-risk

Eliminates out-of-pocket costs like co-pays, deductible, co-insurance for women with high-risk factors such as a personal history of breast cancer, family history, dense breast tissue, a genetic predisposition or previous radiation therapy.
SB 1330 introduced by State Senator Kim Ward:

No-cost genetic testing and counseling for women at high-risk

Covers costs associated with BRCA-related genetic testing and counseling
Please contact YOUR state senator and ask him/her to vote "YES" on both Senate Bill 1225 and Senate Bill 1330 for women at high-risk.
Read the bills at opens in a new windowpbcc.me/SB1225 and opens in a new windowpbcc.me/SB1330