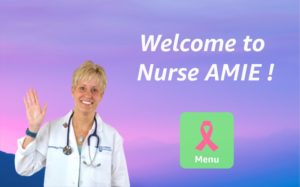 Researchers at Penn State are recruiting women with metastatic breast cancer for a VIRTUAL study of a supportive care platform. This study will be 6 months long and all study visits can be done over video conferencing (Zoom). The supportive care platform (Nurse AMIE – Addressing Metastatic Individuals Everyday) will assess symptoms each day and provide an intervention to help manage those symptoms. This symptom management tool will not require any additional clinic visits –all of this can be done from home. Patients will receive an Echo Show device along with other study materials.
Here's how it works – patients can open up Nurse AMIE on their Amazon Echo Show and answer questions about their current symptoms. Then Nurse AMIE suggests sessions of care including exercise, behavioral therapy and more.
You may be eligible if you:
are a female with metastatic breast cancer
can read / write in English
have wireless internet (wifi) access at home
can read and hear from your television, and
have a device capable of Zoom for study visits.
For more information, click here or contact bkanski@phs.psu.edu.