Newsletter Archive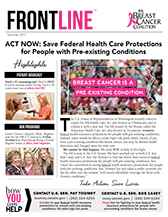 The PA Breast Cancer Coalition publishes a quarterly print newsletter,
Frontline
, with the latest in breast cancer research, treatment, advocacy, support, programs and services.
PinkLink
, the PBCC's eNewsletter comes to inboxes twice each month, delivering patient advocacy tips, survivor stories, medical news, videos and the latest PBCC events.  
Don't miss out! To subscribe to the PBCC's publications, click here.

Looking for an old newsletter not listed here?  Email Info@PABreastCancer.org to request a copy.