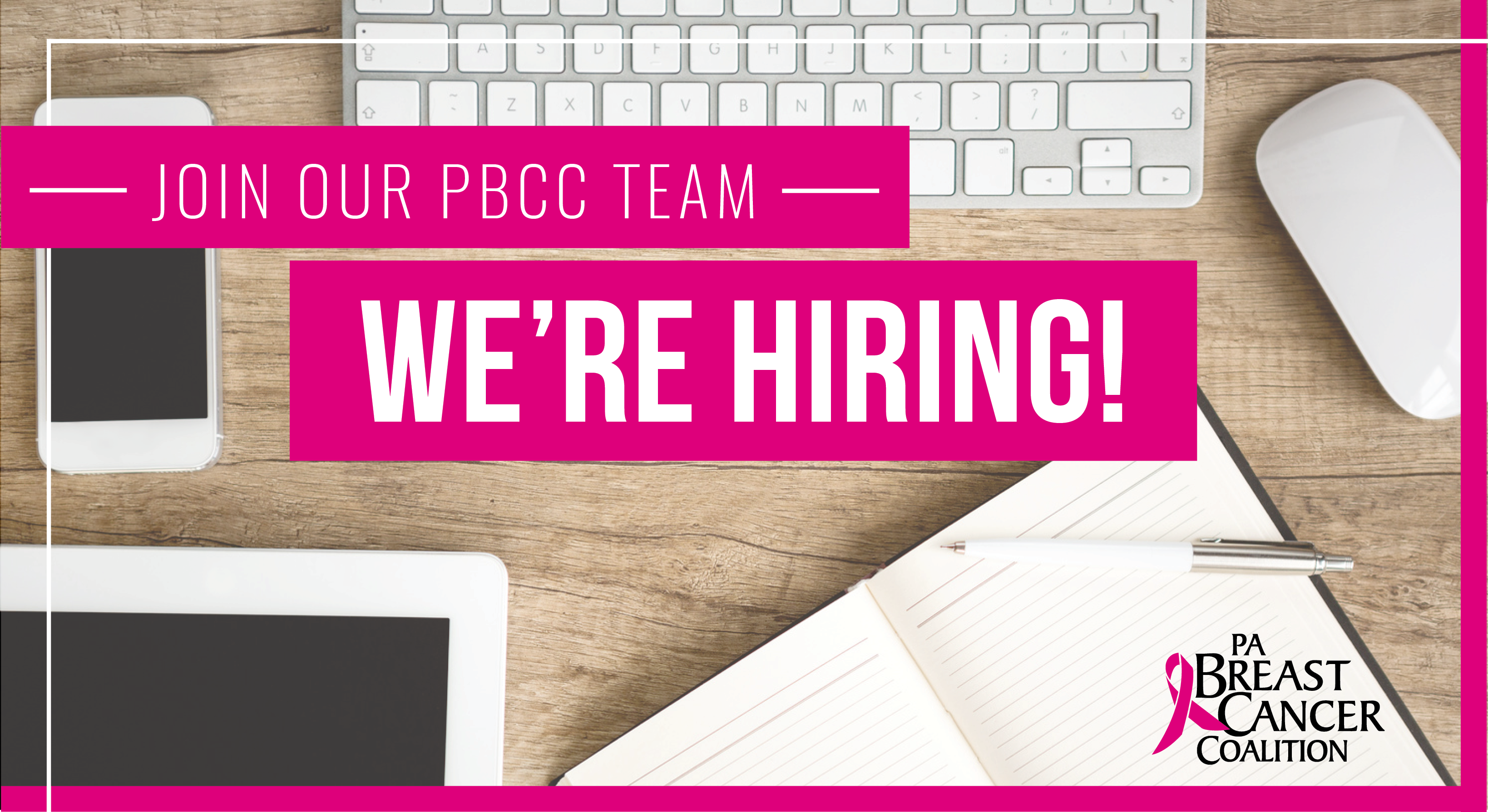 Job Opportunity
Data & Administrative Coordinator
Job Opening
Data & Administrative Coordinator
 Organization Background
The PA Breast Cancer Coalition (PBCC) represents, supports and serves breast cancer survivors and their families in Pennsylvania through educational programming, legislative advocacy and breast cancer research grants. The PBCC is a statewide non-profit organization with a board of directors and a network of volunteers across the state. The PBCC exists to help the over 13,000 women in this state who will be diagnosed with breast cancer this year, to support the families of the 2,200 women who will die from it and to serve as a resource for the hundreds of thousands more women currently living with the disease.
Position Summary
The PA Breast Cancer Coalition is seeking a highly motivated, experienced, energetic professional with excellent communication skills to work full-time (40 hours per week) in the Lebanon, PA office.
The Data & Administrative Coordinator position provides an opportunity for an exciting, challenging and rewarding career. This person is responsible for the overall constituent and data management of the PBCC.
The Data & Administrative Coordinator will work with all PBCC staff members to help keep the office running smoothly. We are looking for an ambassador, a team player, someone who can work with different personality types and is outgoing. We need someone who's friendly, organized, detail-oriented and is willing to help with projects as needed.
This person is responsible for performing a wide range of program, administrative and workplace tasks. He/she will have the ability to organize and manage multiple projects simultaneously; problem-solve and trouble-shoot; interact well with all levels of staff, board and volunteers; and assist staff with both routine and special projects.
Key job responsibilities:
Enter and update constituent data and perform continual clean-up, maintenance and analysis of Raiser's Edge database
Enter all gifts and pledges into the database including cash, credit card, in-kind and matching gifts
Send out thank you letters and gift acknowledgements
Input and process all donations
Prepare queries as requested
Provide support for special events including handling registration for the PBCC Annual Conference
Provide regular weekly reports and other reports as needed
Answer the general phone line and transfer calls
Make hotel & travel arrangements for staff members
Pack up materials and boxes as needed for events mail/ship items as needed
Travel, as needed, to provide assistance for programs and events off-site
Requirements/Qualifications
Bachelor's degree preferred
Experience with data management
Previous experience using Blackbaud "The Raiser's Edge" software preferred
Proficient knowledge of computers including Microsoft Office packages with willingness to develop additional computer skills, adjust to other updated technology and grow academically as required
Highly organized with the ability to multi-task and work productively in a team setting
Willingness to travel and attend occasional evening and weekend events
Salary Range
This position offers a competitive non-profit salary and excellent benefits including health, dental and vision insurance, retirement plan, tuition assistance and life insurance. The salary range is $30,000-$34,000 and is dependent on education and experience.
Please submit the following to Jobs@PABreastCancer.org with "Data & Administrative Coordinator" in the subject line.
No phone calls please.  The PA Breast Cancer Coalition is an Equal Opportunity Employer.